This weekend, I'm marrying two friends. Thanks to the Universal Life Church, both for the online ordination and for providing me with this button to display on my "MySpace page or website".
(Also, if it's good enough for Conan, it's good enough for me.)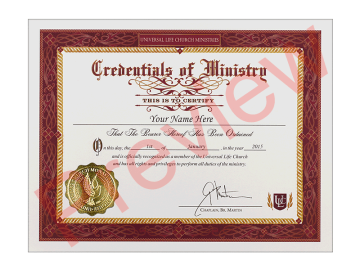 I've been on a lot of stages (that's what she said) but this is one performance that is scaring me shitless. At first, it was just the sheer weight of the responsibility of the job. I wanted to go to this wedding and not have a worry. Now I'm totally afraid of what I have to do. It's a big deal and as officiant, you're the one who sets the tone of the ceremony, keeps it moving along and basically sums up the couple's relationship in mere words. No big deal.
Next dilemma: what to wear? I mean, really? At first, I wanted to wear some sort of robe, making me look like an official judge or a newly-graduated senior. At the very least, maybe a fancy lady wizard.
In trying to find the perfect dress, I realized that you can't wear something that's too cute, in case you look better than the bride. (That's not really going to happen.) Plus, it has to be understated. I can't have people looking at my dress thinking that it's something completely inappropriate. Urgh. As if finding something to wear to a wedding isn't stressful enough. At least, my friends aren't geeky enough to make me wear something like this…
Finally, the last thing I'm worried about might be the most embarassing – the crying. I always cry at weddings. Doesn't matter if I know the people or not. Not only is the wedding this weekend between two of my very favorite friends, but I'm also mentioning their dead cat at one point in the ceremony. How am I NOT going to cry? And sniffle and snot up? Oy. It's not going to be pretty.
My rough draft has been approved and I've been practicing my lines. Fortunately, I don't have to memorize that shit. If I can just find a cute pair of shoes, I'm ready.
It's going to be a good performance, but I'm also hoping that after everyone has a couple of drinks at the reception, it will be completely forgotten.
I'll let you know how it goes.
And yes, I'm probably available for your next wedding.